Since the reply to Werther's letters are to be guessed at best, the novel soon turns into a monologue. It is as though Werther was talking to his alter ego reporting about his emotions, his sorrows.
There we have a first indication for an isolation of Werther. As an emotionally sensitive Sturm&Drang "genius", there's no-one among his friends and acquaintances who could be his equal. And Wilhelm, who's no great soul either, is not able to lead his pen pal out of his "weltschmerz", Wilhelm's suggestions solely based on pure reason are not capable of doing this. There's no place for reason, no right of existence in Werther's soul matters. His solitary existence, his loneliness is self-imposed, as he otherwise sees himself cornered by the "fatal, civic circumstances".
"When I look to the limits into which the striving and inquiring powers of man are jailed... I turn back to myself and discover a world!"
With his "over-extended ideas" his opportunities as a citizen among nobility are very narrow. But it is rather early on that he turns towards a final exit from the quarrels of life: suicide.
"And then, as limited as he is, he always keeps the sweet sense of freedom in his heart and that he can leave this jail whenever he wants to."
Suicide thus becomes the incorporation of anyone's natural right to freedom, that no noblesse or ruler can take away.
It is in this context that one needs to contemplate Werther's relation to Albert. Here Goethe depicts the storm that rages between thinkers and writers of the Enlightenment and the new, youthful force of the Sturm&Drang generation. Reason, traditional values and stability are Albert's touchstones, whereas Werther precipitates himself with intense emotion and intentionally unreflectedly (sic!) into his life. This dispute mentioned above becomes most evident at the topic of suicide.
Werther rejects all of Albert's arguments and passionately defends the right to suicide, which he deems to be an expansion of natural death. A human being whose "confines of suffering" have been overstretched would perish of a "deadly disease" which - having been caused by exterior influences - Werther believes to be inevitable and without a cure.
He soon discovers symptoms of this disease with himself. In his letter of August 30th 1771, his inner conflict between "pain and pleasure" becomes particularly evident.
"... - When I have been with her for two or three hours, entranced by her ways and the divine expressiveness of her words, and my senses gradually become excited, my sight grows dim, I can hardly hear a thing, I have difficulty breathing, as if a murder had me by the throat, and then my heart beats wildly, trying to relieve my tormented senses and only making their confusion worse - Often, Wilhelm, I do not no if I exist at all! And if melan-choly is not allowed to prevail, and Lotte does not permit me the miserable solace of weeping on her hand for relief, I have to leave, and go out - and then I wander far and wide in the fields, and take pleasure in climbing a precipitous mountain, and beating a path through thick forest, hurt by the briers, torn by the thorns! Then I feel somewhat better! Somewhat! At times I am so tired and thirsty that I lie out on the ground, late at night with the full moon high above me, or I rest on a crooked tree trunk in the remote depths of the forest, to ease my sore feet a little, and in my exhaustion I slumber peacefully in the first light of day. Oh, Wilhelm! My soul is so beset that I long for the pampered ease of a hermit's isolated cell, for a hair-shirt and a barbed scourge.
Adieu! I see no end to my misery but the grave."
It's in his unconditional love - he wants no woman but her, sees her in all things and beings - that Werther's doom is founded. As his unconditional love can not hope to find fulfilment in the moral and social framework of the late 18th century and due to Lotte's refusal, the desire for death constantly grows within Werther. Thus he writes on March 16:
"Ah, I have snatched up a knife a hundred times, meaning to relieve my sorely beset heart. People tell of a noble breed of horses that instinctively bite open a vein when they are exhausted and feverish, in order to breathe more freely. I often feel the same, and am tempted to open a vein and so find eternal freedom."
Besides suicide Werther sees only two more solutions to his sheer unsolvable situation:
For one, there'd be murdering Albert, as in his thought on August 21: "What if Albert were to die?" ...then, we might continue his reflection, he might hope that after this violent dissoultion of marriage's bonds, Lotte would be free for him. This road is symbolically taken in the episode with the young servant who in his unfulfilled love for his widowed mistress kills a contestant. Werther defends this crime because he is able to empathize with the accused murderer. But he himself does not take that road.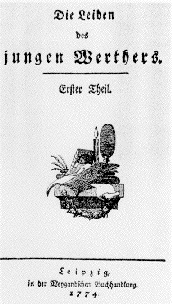 As another alternative there remains insanity. This as well is being depicted in the novel in a side plot. A former secretary with Lotte's father had gone crazy over his hidden love for Lotte. Now he wanders in wintertim lonely over mea-dows and looks for flowers in the snow in order to pick them for his loved one and of course is unable to find them.

Werther finally chooses suicide since he considers it to be his fault that his "heart is dead". He attributes his pain to internal and stable causes as psychologists would say. Thus being rooted in his personality, suicide appears to be the sole possibility to rid him of his sorrows.
The heart just mentioned takes a central role in Goethe's novel, it is the thread that is woven into and connects all letters. As soon as the first letter, heart is being talked about five times, it is joyful, sad, suffering, feeling.
To the side of the heart steps the soul as its companion, the soul als "the mirror of the infinite god". Now a super-human power, God, is brought onto the stage. A god that materializes in nature, the third central notion in the novel. Werther does not confine himself to mere contemplation of nature and a description of what he sees, but perceives his feelings to be reflected by nature.
Before Albert enters the scene, that is when Werther's sky of love is still unclouded, his surroundings seem fresh, vitalizing, like springtime. Sunrises, walks in green valleys, resting at creeks and fountains, life blossoms. But as he gets more conscious of the hopelessness of his love for Lotte, nature seems to add to his desperation. Gloomy night strolls, where once there every place seemed full of life and love, there now appears to be "nothing but an ever devouring, ever chewing monster".
All these features harshly separate "The Sorrows of Young Werther" from the pre-ceeding works of the literature of Enlightenment. Reporting thus personally about a love that deeply violates the stiff etiquette of a society dominated by nobility was unheard of. And even more so when it ends by comitting the sin of suicide. The central role that is awarded to love and the entire palette of feelings in Goethe's novel did not only hit his generation's zeitgeist. It also made a huge impression on other young writers. A new generation had now found contents to revolt against literary establish-ment.
Instead of pure reason, Enlightenment style, the young authors aspired to draw a holistic, and more close to reality image of human nature.
The neglected world of emotion, that confronted the young generation in their own (soul) lifes demanded its due place.
The tempests of genius and emotion of the Sturm&Drang era had drawn near !
Although we might consider Goethe's old-fashioned and sighing language at first glance as far away from ourselves as can be, we notice at second thought that Goethe has created a timeless novel.
Its content - a deeply felt unfulfilled and thus endlessly painful love that sends shivers down our spine, shakes our set of emotions and leads our life to the rim of a frigh-tening abyss - is an experience that we ourselves can encounter as well nowadays as 220 years ago.
And that's what Werther is written for. Hence, once more Goethe at the end:

''It must be bad, if not everybody was to have a time in his life, when he felt
as though Werther had been written exclusively for him."